Digital X-Ray
At the First Coast Foot and Ankle Clinic Dr. Vimal Reddy utilizes digital x-ray to quickly and accurately diagnose patients. Images are instantly saved to a computer and examined by the Jacksonville based podiatrist. No more time wasted waiting for film to develop!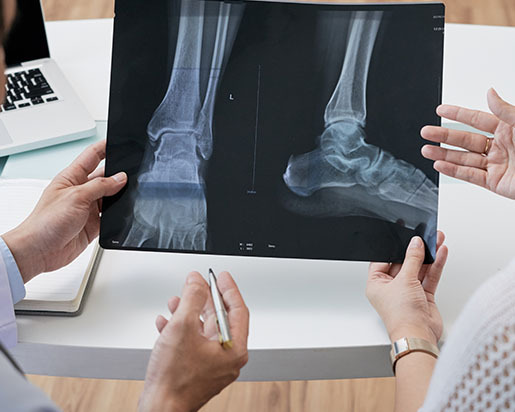 Benefits
The benefits of Digital X-ray over film processing are substantial. Digital X-ray allows our practice to go "GREEN"
NO film making it into local landfills
NO EPA required disposal of chemicals
NO darkroom needed for film processing
NO hazardous chemicals for film processing
NO jackets, folders, sleeves for film filing (Paperless)
Features

Superior image quality
Better patient education
Zoom/Magnify Image - See more pathology
X-rayshelp determine whether a bone has been fractured or damaged by conditions such as an infection, arthritis, or other diseases. X-ray has greatly enhanced our ability to diagnose small bone spurs and fractures that usually go unrecognized. Other reasons for conventional X-rays on your feet are to:
Assess whether a child's bones are growing normally
Determine whether bones are properly set after treating a fracture
Locate foreign objects (such as pieces of glass or metal) in a wound
Evaluate changes in the bones from infections, arthritis, or other bone disease
Notes
**Pregnant women, especially those in their first trimester, are advised against having X-rays because the radiation may harm the unborn child.